Backup – The safety net underneath Smaller UK Businesses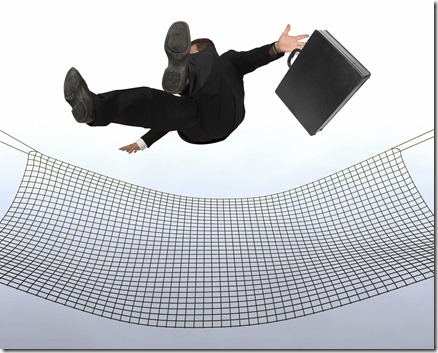 A recent conversation with one of our Customers refocussed my attention on the business side of backup (its easy to get so involved in the 'nuts and bolts' of Backup technology – you sometimes 'loose' sight of the bigger picture)

As a manufacturing business, they are re-investing in new business systems, such as Warehousing and Distribution Systems, new CRM Systems, advanced Telephony systems and upgrading their Accounting Systems.
For them –  Backup is simply there to protect AND Recover Invoice data (Who owes me money), Accounts Payable (who do I owe money), Warehouse Stock, CAD Drawing, Credit card payment details –
The Managing Director is not interested in VMware Snapshot Capability or Hyper-V VSS  — They would not and should not need to know – Thats 'IT's' role in the business.
They simply want:
1) Good long term Data preservation
2) Confidence their daily business changes are accurately backed-up  and available for quick restore
3) and the emerging need of 'How can I use my backup for DR/BC
Smaller businesses may now operate across time zones – meaning their business systems need to be operational and 'UP' for 14-18 hours per day – rather than the traditional 8-10 hours per day
So Why Did I say 'Smaller UK Businesses'  in the BLOG title
In many ways –  Smaller UK Business can often 'only afford' backup.
By that I mean – The array of technology Medium sized business can deploy is often dazzling.
Lets compare:
| | | |
| --- | --- | --- |
| | Smaller Business | Medium Business |
| | | |
| Number of Sites | 1-2 | 4-6 |
| WAN Speed between Sites – Can the WAN be used for cross site Backup | 1-10 mbps / There is the possibility some bandwidth can be used for DR Backup | 10-100 mbps / Usually there is more than sufficient bandwidth for a full remote DR capability |
| Typical Data/Systems Sizes | 2-6 TB | 6-30TB |
| Storage Systems | Mostly Internal / Direct Attached; with a first move to SAN Technology | Medium sized businesses typically progressed some years back to SAN Technology |
| Virtualisation | Some – a Mix of Physical and Virtual – often with the key servers still Physical | Reasonably Committed to Virtualisation with 90% of Servers Virtual – Usually the key SQL or other servers still physical |
| Backup | Still wrestling with Backup Exec or Arc Serve.Old Tape Drive – often on its last legsTape Backups nightlyTape in the firesafe or someone's backpack to take home. | Have moved beyond Tape into Cross site DeDuplication and Replication, using DeDupe Appliances –Possibly, Tape in there somewhere used as an infrequent archive.Completely automated hands off backup operations, comprising traditional backup, Modern SAN Snapshot, Cloud based archiving of email etc. |
| Disaster Recovery | The data is 'there' somewhere, and the business can be recovered, but it might result in recovery times of 48-72 hours, and with data loss of 24-36 hours. | Because of the rapid modernisation, these organisations have often taken their 'Three Year Old' technology and redeployed that to a remote office as their DR solution – Providing them with a 30 minutes – 3 Hour recovery capability to bring a good percentage of the business back 'on-line' |
Medium Size business have the technology, budgets and supporting Network infrastructure to deliver data protection needs three OR four differing ways (SAN Snapshots, Remote SAN Snapshot, Real-time Archive to Cloud, Exchange 2010 WAN Based DAG Pairs etc. etc.)
BUT
Most smaller businesses often have 'just' the budget to run one process – and that's Traditional Backup – They don't have the SANs, and the WANs for 'fancy backup'.
Unitrends – Backup made for smaller businesses
So – when it comes to Smaller Business Backup – we are head over heals about Unitrends.
It delivers so much more than 'Backup', but does so at an affordable price, but without introducing complexity.
Unitrends have cleverly crafted 'built in smarts' – the Backup systems knows what needs to be done – and once set-up, requires little to no attention.
Unitrends is shipped as a single and Unified Backup Appliance – a tightly integrated hardware/software package.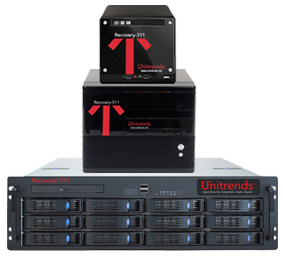 Unpack – Plug in and then follow a 10 minute wizard and you will be 90% of the way to backing up your Physical, VMware and Hyper-V environment.
It simply provides the Unified Safety net for smaller business, that are undergoing rapid growth and rapid change, to ensure their digital assets are protected, backed up, recoverable and archived to Tape, NAS or removable Disks.
The unique feature is Unitrends will often run for days – weeks, unattended in the background – without the need to 'work / wrestle or fight' with the system to achieve clean  backups
Unitrends- better yet can perform the most miraculous of techno-tricks.
If one of your Windows Physical Servers fails – The now defunct physical server can execute/run 'inside' the Unitrends Physical Backup Appliance (Unitrends performs clever Physical to Virtual Conversation – and inside the Unitrends runs a Hypervisor ready to fire up the entire Physical server – all running on the Unitrends Backup Appliances CPU/RAM and Disk)
Preparing for the change in your Business
As your Senior Management jump in with both feet to add new Application Systems  – It is essential for IT Staff to get into these meetings and have their say on What needs to be done to support these new Environments.
Get Unitrends built in as part of your Companies application project plans – and rest assured knowing you have a secure means to recover to yesterday, last week or months ago.
So no matter how fast your business changes it's Application environment, at least in IT you will have the 'time machine' to wind back and rescue the day in the event of unplanned data or systems changes.