[spb_icon_box box_type="left-icon" image="ss-like" color="standard" target="_self" animation="none" animation_delay="0″ el_class="sf-icon-box" width="1/3″ el_position="first"]
EMC VNX5400
an ideal mid-Enterprise SAN system – scaling to 1 Petabyte of storage
[/spb_icon_box] [spb_text_block pb_margin_bottom="no" pb_border_bottom="no" width="1/6″] [/spb_text_block] [spb_text_block pb_margin_bottom="no" pb_border_bottom="no" width="1/2″ el_position="last"]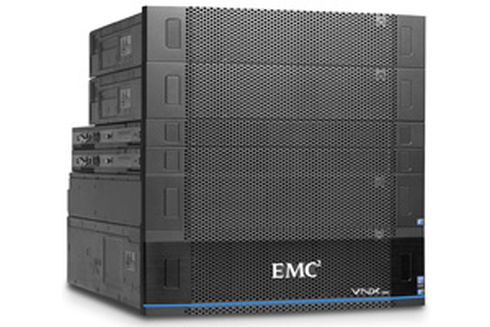 [/spb_text_block] [blank_spacer height="10px" width="1/1″ el_position="first last"] [spb_icon_box title="Overview" box_type="left-icon" image="ss-highvolume" color="standard" target="_self" animation="none" animation_delay="0″ width="1/3″ el_position="first"]
Rev up application performance like never before with VNX5400 unified storage systems. These data storage systems feature MCx for multicore optimisation that delivers a four-fold increase in transaction performance over previous EMC VNX systems. Get high performance and low latency for virtualisation and IOPS-intensive applications.
Deduplication, compression and thin provisioning reduce your SAN and NAS storage requirements dramatically. Choose FAST Suite to automate storage tiering, and you'll benefit from the best performance at the lowest cost. Protect data with options including Data-at-Rest Encryption, point-in-time snapshots and remote replication.
[/spb_icon_box] [spb_text_block pb_margin_bottom="no" pb_border_bottom="no" width="1/6″]
.
[/spb_text_block] [spb_icon_box title="Data Sheets" box_type="standard-title" image="ss-checkfile" color="standard" target="_self" animation="none" animation_delay="0″ el_class="sf-icon-box" width="1/6″]
[/spb_icon_box] [spb_icon_box title="Related" box_type="standard-title" image="ss-checkfile" color="standard" target="_self" animation="none" animation_delay="0″ width="1/6″]
[/spb_icon_box] [spb_icon_box title="Case Studies" box_type="standard-title" image="ss-checkfile" color="standard" target="_self" animation="none" animation_delay="0″ width="1/6″ el_position="last"] [list]
[list_item icon="ss-link"]Coming Soon[/list_item] [/list]
[/spb_icon_box] [blank_spacer height="10px" width="1/1″ el_position="first last"]
| | |
| --- | --- |
|  VNX5400 |   |
|  Min/Max Drives |  4/250 |
|  Max FAST Cache |  1 TB |
|  Drive Enclosure Options |  25×2.5″ SAS/Flash drives-2U15x3.5″ SAS/Flash drives-3U60x3.5″ SAS/Flash drives-4U |
|  CPU / Memory per Array |  2 x Intel Xeon ES-2600 4-Core 1.8 GHz/32 GB |
|  Max Block Ultraflex IO Modules per Array |  8 |
|  Raid Options |  0/1/10/3/5/6 |
|  Max Total Ports per Array |  36 |
|  # File Data Movers |  1-4 |
|  # Control Stations |  1-2 x 1U Server |
[/spb_text_block] [blank_spacer height="30px" width="1/1″ el_position="first last"]