[spb_icon_box box_type="left-icon" image="ss-like" color="standard" target="_self" animation="none" animation_delay="0″ el_class="sf-icon-box" width="1/3″ el_position="first"]
SpectraLogic T50e Tape Library
Starting at £5, 972
10 –  50 Slots / LTO6 Drive in 4U
[/spb_icon_box] [spb_text_block pb_margin_bottom="no" pb_border_bottom="no" width="1/6″] [/spb_text_block] [spb_text_block pb_margin_bottom="no" pb_border_bottom="no" width="1/2″ el_position="last"]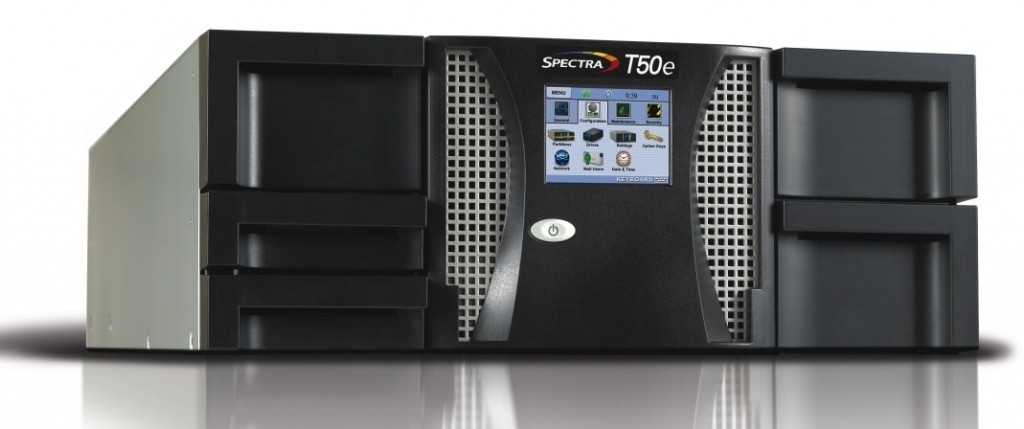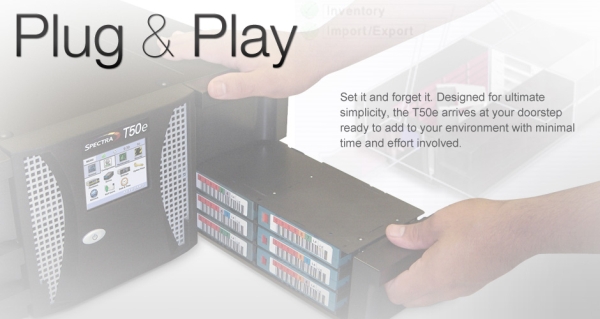 [/spb_text_block] [blank_spacer height="40px" width="1/1″ el_position="first last"] [spb_icon_box title="Overview" box_type="left-icon" image="ss-highvolume" color="standard" target="_self" animation="none" animation_delay="0″ width="1/3″ el_position="first"]
The only library that takes care of itself!
The T50e ships with 50 slots, though can be cost effectively licensed for as few as 10 slots to start with.
The T50e scales from 1 to 4 Tape Drives and up to 300TBs of compressed data.
The T50e can be configured as both SAS direct connect or Fibre Channel.
User installable in under 30 minute and taking just 4U of rackspace, the T50e is ideal for backup and archiving projects alike.
[/spb_icon_box] [spb_text_block pb_margin_bottom="no" pb_border_bottom="no" width="1/6″]
.
[/spb_text_block] [spb_icon_box title="Data Sheets" box_type="standard-title" image="ss-checkfile" color="standard" target="_self" animation="none" animation_delay="0″ el_class="sf-icon-box" width="1/6″]
[/spb_icon_box] [spb_icon_box title="Related" box_type="standard-title" image="ss-checkfile" color="standard" target="_self" animation="none" animation_delay="0″ width="1/6″]
[/spb_icon_box] [spb_icon_box title="Case Studies" box_type="standard-title" image="ss-checkfile" color="standard" target="_self" animation="none" animation_delay="0″ width="1/6″ el_position="last"] [list]
[/spb_icon_box] [blank_spacer height="40px" width="1/1″ el_position="first last"] [spb_text_block icon="nTier Verde Specification" pb_margin_bottom="no" pb_border_bottom="no" el_class="mb0 ; mt0″ width="1/2″ el_position="first"]
Capacity and Throughput

 

 

 

 

 Media
Max Drives
 Max Cartridges
Max Capacity
Max Throughput
 LTO-6
 4
 50
125 TB Uncompressed / 313 TB compressed
2.3 TB/hr  Uncompressed / 5.8 TB/hr compressed
 LTO-5
 4
 50
75 TB Uncompressed / 150 TB compressed
2.0 TB/hr  Uncompressed / 4.0 TB/hr compressed
[/spb_text_block] [spb_text_block pb_margin_bottom="no" pb_border_bottom="no" width="1/6″] [/spb_text_block] [spb_text_block icon="nTier Verde Specification" pb_margin_bottom="no" pb_border_bottom="no" el_class="mb0 ; mt0″ width="1/3″ el_position="last"]
 Physical Characteristics

 

 Tabletop unit dimensions
 7.3″H x 17.5″W x 31.6″D
 Rack-mount dimensions (4U)
 6.9″H x 17.5″W x 31.6″D
 Weight (4 Drives)
 57.5 lbs / 26.1 kg
[/spb_text_block] [blank_spacer height="30px" width="1/1″ el_position="first last"]