Backup was once a 'single Server' process.
The machine that owned the 'disk', also owned the data and the 'tape device'.
And while this process has been around since 1940, even today, some small businesses use this method of 'directly attached' tape devices, for the simple reason that shared OR network backup can be more complex than 'walking tape' around to each server.
Network Backup
Products like Legato and Arcserve introduced to many IT shops, their first experience of  'Network' backup.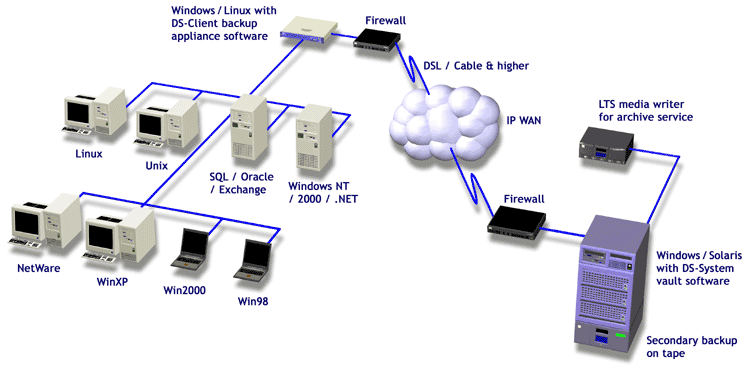 Eventually, rather than backing up to Tape, the price of hard-drives fell low enough, that  Disk was viable as the backup target.
Yet – in all cases, backup suffered from a number of challenges:
The data was in a proprietary  'backup format' – unusable, other than by the 'back up' system.
The backup process was usually just once per day

i.e. if you lost your data, the best you could hope for was to return to 'yesterdays' data
Next Generation BackUp
Today, we can expect our backup systems to do all of the above, but also to offer the following enhancements:
DeDupe: Intelligently scour the data and remove 'mass repeated' data structures such as the 'Word' file that has been saved across 15 different servers
Instant Recovery: Store the backup data in NTFS, EXT3 or RAW Disk format, so it can be instantly mounted and used as a 'Storage Volume'
Continuous Data Protection (CDP): constantly trickle data from a server as it is being created. In doing so, a small constant 'CPU' load is given up to the CDP process, but the benefit is:

'Back Up' is continuous and we can typically 'wind back' to any point in time to recover our data
The nightly 'off to the races' backup process has been eliminated; thus avoiding the concerns about 'backup windows' and 'heavy CPU' load that old generation backup processes induced.
CD-DataHouse has extensive experience in the backup and recovery arena.
The plethora of technologies that exists means sophisticated DeDupe, CDP and Instant Recovery technologies can be had for prices starting as low as 1K GBP, all the way up to 100K, 250K and upwards for enterprise class scale deployments.
Yet, many SMB's and SME's could benefit by a deeper analysis of their backup and recovery requirements, and taking a Tiered approach to backup.
Tiering would allow 'Enterprise' class solutions to be used for '10%' of the data that is critical, and potentially much lower cost solutions to protect other data 'classes'.
The overall effect can be an 80% reduction on what you might currently be paying for CapEx and Opex to protect your data.

Contact us now for an initial discussion.