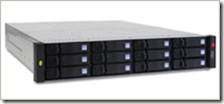 It's like two products in one array.
The 3930 2U12 Multiprotocol SAN Arrays support both fibre channel and iSCSI host connectivity. Use the same system for either Fibre Channel or iSCSI host connections, reducing SKUs, spare parts or use the second protocol port for remote replication. While fibre channel provides high-speed storage access for demanding applications, the iSCSI ports can support remote replication which enables disaster recovery and business continuity.
Benefits
Dual protocols in one box – fibre channel and iSCSI
8Gb Fibre Channel improves storage performance
1Gb iSCSI connectivity enables storage access from greater distances as well as replication to a secondary site.
Maximum of 8 ports – 4 fibre channel and 4 iSCSI
Remote replication software provides an easy path to data protection.
Truly affordable array-based replication solution enabling disaster recovery.
Drive-spin-down reduces power consumption during non-peak hours.
NEBS Level 3 and MIL SPEC compliance ensures that our storage arrays excel for mobile computing, military intelligence gathering, and surveillance inside and outside the datacenter.
With two 8Gb Fibre Channel ports and two 1Gb iSCSI ports per controller, these multiprotocol configurations allow high speed data access, as well as replication across greater distances over Ethernet.
AssuredRemote™ – integrated Remote Replication
The 3930's with optional AssuredSnap™, the volume snapshot capability, and AssuredCopy™, which creates a full volume copy providing additional protection against vdisk failure.
Applications and Disaster Recovery
The next generation 3930's 8Gb SAN solutions are designed to support today's demanding applications as well as storage growth. These systems will improve read/write performance for any storage area network, making them the first choice for applications such as email, databases, business analysis, and video streaming.
The addition of iSCSI support on the 3930 together with AssuredRemote supports several data security applications:
peer site failover
centralized backup
off-site data storage
planned outages at the primary site
Disk Drive Support
Dot Hill's 3920's support a total 144 total disk drives in compatible 3120 JBOD expansion arrays. SAS, SATA and SSD drive support details.
Environmentally Responsible
Utilizing Dot Hill's patented EcoStor™ technology, these systems have completely eliminated cache batteries, using instead super capacitors and flash memory to provide infinite cache backup during a power loss, while being environmentally friendly. The 3930 storage systems also feature drive-spin-down which saves energy by allowing drives to rest when not in use.
Enhanced Performance
The 3920's use patented SimulCache™ technology that instantly and simultaneously mirrors cache between RAID controllers, leading to significant performance improvements over traditional implementations.
Storage Made Easy
The 3930 fibre channel SAN Arrays are easy to configure and manage with RAIDar 2.0, our intuitive web based interface which provides storage setup and monitoring without the need for host based software. RAIDar 2.0 saves time with configuration and installation wizards, and schedulers for snapshots and replication