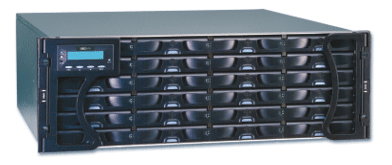 RAID security at SATA cost can also be offered for Storage Area Networks. This allows to save rich media data on high capacity SATA RAIDs, and leave the more expensive top performance RAIDs for databases.
All of the systems are available with 4 Gbit Fibre Channel Interface now.
SATA RAIDs can be easily scaled by just adding another one to the SAN. They all can then be managed over one shared network address.
24 bay systems with 4 Gbit also offer a SAS Expansion Port.
ES-6200 are also available with Ultra 320 SCSI , SAS and iSCSI interface.
Express Exchange Service and On Site Service available for all RAID systems.
Features:
8, 12, 16 or 24 SATA disks
up to 32 TB with 2 TB disks
24 bay systems with SAS expansion port (up to 64 disks with single controller, 56 disks with dual controller)
RISC processor on Infortrend controller
16/24 bay systems with ASIC400: 30% faster
single or dual controller
OS independent
512 MB cache
battery backup with dual controller (optional for single controller)
2 x 4 Gbit FC host interface
RAID Level 0, 1, 0+1, 3, 5, 10, 30, 50, NRAID
most systems also with RAID 6 and 60
logical drives with different RAID levels
local and global hot spare disks
redundant power supplies and fans
monitoring of fan rotation, temperature and voltage
optional: AV optimized firmware for constant data flow
RAIDwatch management over web browser (Ethernet Port)
3 years warranty