NexSan E48 – 192 Terabyte in 4U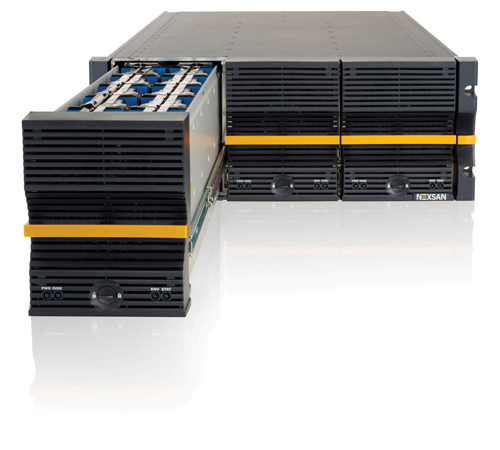 [wptabs]
[wptabtitle]NexSan E48[/wptabtitle]
[wptabcontent]
The NexSan E48 arguably has the industry's Highest Density of Storage per Rack Inch in an industry standard 100cm rack:
Along with an incredible 'Cost Per TB', means the E48 is affordable to a wide range of sectors including Schools, Universities, Finance, Banking and Health.
Delivering unsurpassed Power Efficiency – Up to 87% savings in Power and Cooling with AutoMAID™ drive "in-activity" spin down technology.
Starting at a base 16TB configuration , the E48 delivers:
up to 192 TBwith  iSCSI and Fibre Channel interfaces

48 disks in only 4U of rack space.

Mix SAS or SATA drives

and combine in as many and differing RAIDsets as required.

With the optional E48x expansion chassis, also 4U in rack height,  the E48 expands 384TB.
The NexSan E48 represents the ultimate High Density SAN Storage Solution for:
Oil/Gas and Seismic Processing
Medical Imaging and PACS archiving
Large Scale Document and Library Archives
High Definition Media Storage
BackUp and Restore
[/wptabcontent]
[wptabtitle]Tech Specs[/wptabtitle]
[wptabcontent]
A brief summary of technical specification follows, though download the DataSheets for a deeper review.
Custom ASIC RAID controllers deliver

blistering

RAID6 performance

Active Drawer Technology – slide in and slide out drawers, even when the SAN is powered on

2x or 4x  8Gbps Fibre Channel Ports concurrent with 2 or 4 iSCSI Connections

Single or Dual Active/Active Array Controllers

Mix SATA and SAS drives to meet varying needs

Dual redundant hot-swap power supply units
Push and Pull cooling fans (front and back)

Legendary anti-vibration chassis design

4GB of battery-backed / Flash protected cache

Dedicated hardware for RAID6 acceleration

3 drawers of 16 drives each make swapping easy

Lights-out management

Microsoft VDS compliant
[/wptabcontent]
[wptabtitle]Customer Videos[/wptabtitle]
[wptabcontent]
| | |
| --- | --- |
| | Bob Hayes, Director of Technology for Artbeats, high-quality HD stock footage, talks about the value of having a single Nexsan storage solution that's available, reliable and secure. Nexsan offered 42TB raw storage for half the price of other solutions. He highlights how Nexsan accommodates Artbeats' 150TB of data, the simplicity of deployment and the rock-solid reliability and ease-of-use. |
|  Cory Pierce, IT Manager for engineering and architectural firm, Clark Enersen tells how Nexsan provides all the upper-tier features and backend management they need in an easy interface and at a low cost. He highlights the value of easy expansion without large expenditures. |   |
|   |  A variety of NexSan customers speak briefly about their NexSan experiences |
[/wptabcontent]
[wptabtitle page="1762″]AutoMaid[/wptabtitle]
[wptabtitle]DataSheets[/wptabtitle]
Click to download the NexSan E60 Datasheet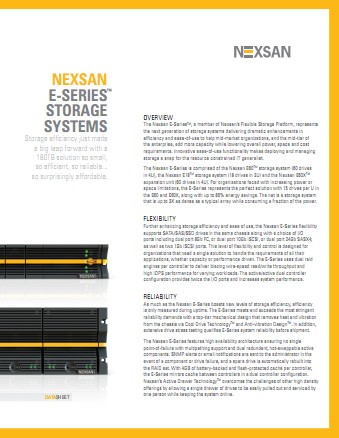 [/wptabs]