About Texas Memory Systems, Inc
Texas Memory Systems:
* Designs and builds the World's Fastest Storage®
* Is privately owned, with no debt/venture capital
* Brings 30 years of experience with high bandwidth low latency storage architectures
* Has a deep engineering team with years of experience working together.
Roadmap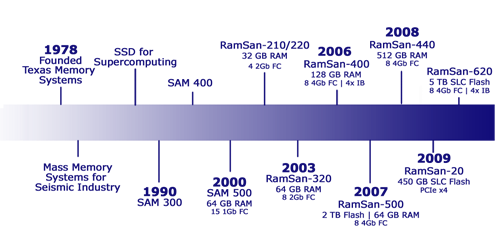 Since 1978, Texas Memory Systems (TMS) has specialized in high bandwidth, low latency enterprise data storage and digital signal processing systems. While the primary feature of our products has always been high performance, we achieve this performance without resorting to overly complex circuitry or unwieldy protocols. This emphasis on simplicity allows TMS to deliver outstanding performance using mature technologies and readily available off-the-shelf components.
RamSan Video Whitepaper
[youtube Q992Ds8ZMzQ 400 300]