Case Studies below
The world of storage is no longer just about capacity;
It's now also about the need for extremely fast and reliable access to data. The ever-increasing demand on today's servers, combined with the exponential growth of processor performance, has exposed the limitations of today's aging storage architectures.
The time has come for a truly innovative solution that takes enterprise data availability, scalability and access rates to a new level of simplicity and performance, without sacrifices.
Ideally suited to:
heavy SQL and Oracle Databases
WebFarms
High Performance Microsoft Exchange Email Servers
etc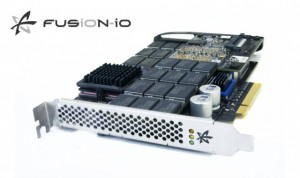 ioDrive Duo320GB, 640GB or 1.28TB
1.5 GByte per second performance
200,000 Random IOPS

Using the same award-winning ioMemory technology as the ioDrive, the ioDrive Duo doubles the performance and capacity available on a single device. Multiple ioDrive Duos combined can easily achieve gigabytes of bandwidth and hundreds of thousands of IOPS with a single server.
Doubles the performance of the industry leading ioDrive
Integrates with servers at the system bus and kernel level, creating a new Flash memory tier
Not an

SSD

—easily outperforms dozens of

SSDs

Accelerates applications, improves response times, and boosts efficiency
Reduces storage latencies and eliminates I/O bottlenecks
Delivers the performance of thousands of disk drives in a single server
From 320GB – 640GB of enterprise-grade, solid-state Flash
Easy to use, highly reliable
The ioDrive Duo can simplify your IT life and save you money – Download io-Drive DUO DataSheet PDF
Fusion-io's CTO – a Must see Video Whitepaper
[youtube -LrkGpjfFVg 300 200]