Find out why GE, AGFA, McKesson and Cerner choose NexSan Assureon Digital PACS Archiving storage to protect and quickly access vital medical data.





Assureon offers an affordable means for Hospitals and Clinics to bring PACs storage 'back in-house' or to eliminate Tape media entirely.

Explore the details below and download various case studies, datasheets and whitepapers.
[wptabs]
[wptabtitle]Customer Video[/wptabtitle]
[wptabcontent]

Robert Kimberling – IT Director – Radiology & Associates
Speaks about the practise of storing and retrieving X-Ray and PACS information
[/wptabcontent]
[wptabtitle]Technical Overview[/wptabtitle]
[wptabcontent]
Don Chouniard – NexSan Product Manager
Speaks about the architecture and use of NexSan Assureon
| | |
| --- | --- |
| | Click below to obtain your Assureon Product DataSheet |
[/wptabcontent]
[wptabtitle]Feature Outline[/wptabtitle]
[wptabcontent]
Assureon ensures your PACS imaging and patient records are incorruptible and impervious to loss, tampering or accidental erasure.
Learn how you can have the same assurance with the most cost-efficient disk archiving solution available, with the simplicity to achieve lights-out self management in the single turnkey solution.
The Assureon Digital Archive provides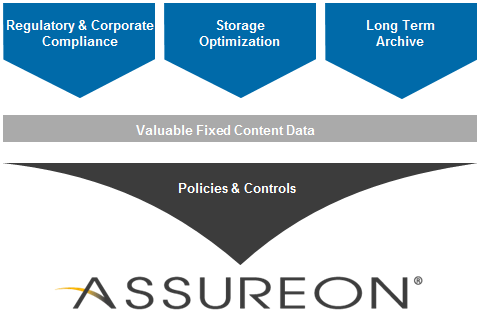 File Fingerprinting
Assureon protects the integrity of your data with innovative digital fingerprint technology. With Assureon's original technology, a unique digital fingerprint is generated for each file using concatenated SHA1 and MD5 cryptographic algorithms. This next-generation approach provides the benefits of integrity while eliminating file collisions that can result in data loss in competitive products. Assureon's fingerprint feature ensures the data you put on storage is the data you get back regardless of time
Physical Separation of Data
Individual applications, departments, organizations or businesses can share a single Assureon but have their own secure archive with dedicated storage to ensure physical data separation and privacy
Self Auditing and Self Healing
Assureon transparently checks the integrity of all stored files and automatically self-heals if any discrepancies are discovered
File Audit Trail
Assureon tracks all users and applications that access each file providing administrators with an unalterable audit trail of information access
File Availability Audit (Serialization)
Each file is given a unique inventory serial number. Assureon continually takes inventory of all stored files ensuring all files are present. Any missing files will be automatically replaced using a redundant copy
WORM Storage
WORM (write once read many) ensures retention periods are enforced and  provides file immutability. Once a file is archived, it cannot be changed and is protected against accidental or deliberate deletion, tampering, false file insertion and date or time altering
Encryption
Assureon protects information privacy and security with AES256 encryption – the encryption level authorized by the US Government for Top Secret Classified Information. Assureon encryption services ensures the highest levels of file privacy and security
Secure File Deletion
Use compliant-level file deletion with encrypted and non-encrypted files. Optional 7-pass DOD wipe can be enabled for DOD data deletion
File Versioning
File versioning can retain only the last few versions of a file and automatically disposes older versions. The number of versions to be retained is fully configurable from 1 to all versions
Independent Date and Time Stamp
As part of the encryption key service, Assureon's independent time source prevents modifications to the system's time clock ensuring the integrity of retention periods. With Assureon there is no tampering to the system clock or the date stamp on the file itself
Redundant Architecture
Assureon is designed as a fully redundant, high availability system providing no single point of failure. This fault tolerant architecture ensures the highest levels of business continuity and continuous data availability
High Availability Storage
Supporting the innovative Assureon appliance is Nexsan's highly reliable, green storage. The SATABeast, SASBoy and SATABoy provide redundant controllers, power supplies and fans along with support for RAID 6 to overcome double drive failures
Compliant or Flexible Retention Periods
Use compliant-level retention periods to ensure data cannot be deleted before the end of the retention period. Use flexible retention periods for files that do not require regulatory compliance. Users can select retention types for each type of data being archived
Legal Holds
Legal holds can be placed on files to protect against file deletion when its retention period has expired. This ensures availability of files in cases of litigation or potential litigation

De-duplication
With CAS technology, store only a single instance of duplicate files maximizing storage efficiency. Meta data and retention policies will still be preserved for each instance
Active/Active Replication
Assureon has taken data replication to a whole new level with its digital fingerprint technology. Assureon combines active/active replication and automated failover/failback with innovative fingerprint technology to enable business continuity with data integrity
Assureon FSW (File System Watcher) Client
Configure host archive policies with Assureon FSW Client. Policies can be configured for different file folder locations and data categories including when to archive a file, retention periods and what is left behind (original file, shortcut, or nothing)
Assureon Edge
Extend Assureon archive service to include multiple remote offices, branches, facilities and even other businesses. See the Assureon Edge data sheet for more details
Assureon NFS and CIFS Interface
Assureon Edge can provide a CIFS and NFS interface. Files written to these Assureon shares can be automatically archived to Assureon based on pre-described configurable policies
Application Support
Assureon has been integrated with leading applications to provide a complete and secure disk archiving solution. These include: email archive, PACS, document management (ECM), financial reports (ERM/COLD), imaging and other applications
[/wptabcontent]
[wptabtitle]Information Kit [/wptabtitle]
[wptabcontent]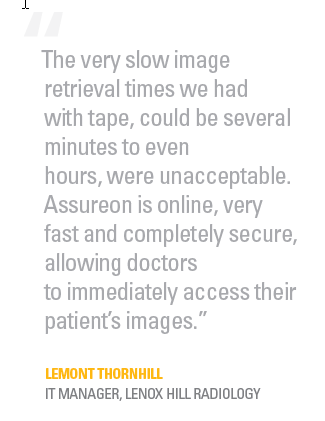 To obtain your NexSan Assureon Healthcare Information Kit:

Please provide your details so we can send the information kit to you.
Your Information Kit Includes:
Assureon Datasheet
Assureon vs. Tape Whitepaper
Green Storage Whitepaper
Hackensack Radiology Customer Story
Lenox Hill Radiology Customer Story
[/wptabcontent]
[wptabtitle]Case Studies [/wptabtitle]
[wptabcontent]
Assureon Case Studies  
OakLawn Hospital Medical PACS Archiving 

Download

OAKLAWN HOSPITAL RESOLVES 3 BIG CHALLENGES WITH 1 SOLUTION Oaklawn Hospital was seeing dramatic increases in its PACS-IW medical image system and the associated database. Storage requirements were being compounded with increasing amounts of data, and the cost and complexity of maintaining the current disaster recovery archive was increasing daily. Oaklawn wanted to reduce these costs while assuring security, privacy compliance and fast restores in the event of a disaster.
Hackensack Radiology Group


Download

AGFA HEALTHCARE AND NEXSAN TECHNOLOGY DATA STORAGE IMPROVING PATIENT CARE

For nearly half a century, Hackensack Radiology Group (HRG) has been providing unsurpassed, comprehensive radiology imaging and services to Hackensack University Medical Center and the surrounding community.
Lennox Hill Radiology Group


Download

SATA DISK SYSTEM ELIMINATES TAPE A NEXSAN CASE STUDY OF LENOX HILL RADIOLOGY

Lenox Hill Radiology provides state-of-the-art imaging services as well as diagnoses. As Lenox Hill Radiology grew, the old tape-based archive failed to meet the performance and reliability that doctors and patients demanded. They chose Assureon, a super-secure high performance PACS archive storage solution to help them increase performance, keep cost down and comply with HIPAA.
Regional West Medical Centre


Download

REGIONAL WEST MEDICAL CENTER DEPLOYS ASSUREON® MEDICAL IMAGE ARCHIVE TO IMPROVE PERFORMANCE AND DISASTER RECOVERY PROCESSRegional West Medical Center implemented the Horizon Medical ImagingTM picture archiving and communication system (PACS) from McKesson to improve workflow and protection of patient records.
The McKesson solution provided immediate improvements for the facility, yet the  underlying infrastructure which supported the PACS was outdated, limiting the overall potential of the solution.
Additionally, the facility wanted to implement an effective contingency plan that ensured full data replication and disaster recovery.
[/wptabcontent]
[wptabtitle]Whitepapers[/wptabtitle]
[wptabcontent]
Medical Archiving and Assureon Whitepapers – Click image to download PDF
| | |
| --- | --- |
| | |
| | |
[/wptabcontent]
[/wptabs]