Nexsan E18 SAN RAID Array
The Nexsan E18 is a block-level RAID disk array that fits 18 disks in 2U of rackspace, for up to 10.8TB of storage capacity per unit. Completely OS-independent, these disk arrays offer dual-function Fibre Channel and iSCSI host connectivity with wire-speed throughput. Configurations can feature single or dual RAID controllers, and each RAID controller features 2GB of battery-backed DDR3 cache and dual RAID engines.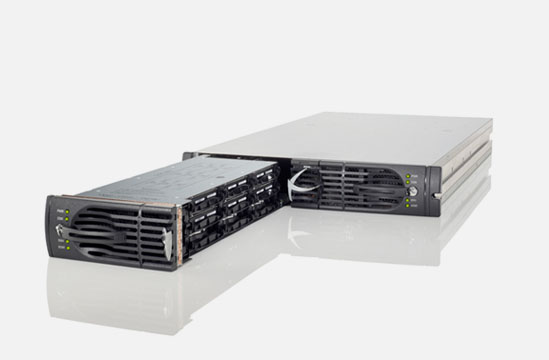 Nexsan E18 connectivity is provided via 2 x 8Gbps Fibre Channels ports and dual 1Gbps iSCSI supports. The ports can be used simultaneously to support multiple workloads on a single array. The Nexsan E18 disk array can also support multiple RAID sets with multiple volumes per set, and up to 254 LUNs.
Active Capacity Disk Drawers
To maximize the reliability and ease-of-use of this disk expansion unit, the Nexsan E18 features a design layout of the disk drives being located in 2 self-contained disk drawers. Each drawer contains 9 disk bays, and tachometer -controlled push and pull fan modules. Other features of this unique design include:
Each drawer can have a different drive type of SAS or SSD
Use any Nexsan certified and shipping drive (SAS and SSD)
Use any supported Nexsan RAID type (RAID 0, 1, 1+0, 4, 5 and 6)
Create multiple RAID sets within a single drawer
Create a RAID set across two or three drawers
Nexsan's specially-designed cables for this disk expansion unit enables drawers to be pulled out so service can be performed to disks and fan within the unit without affecting operation or availability.
Reliability, Availability, Serviceability
The design of the Nexsan E18 expansion unit includes many of the reliability features included with their other disk arrays. Features include:
Redundant, individually hot-swappable disks, expansion interface modules, and fans
Anti-Accumulative Rotational vibration design maximizes disk reliability
Horizontal mid-plane maximizes cooling for optimal operating conditions
RAID sets can be automatically rebuilt with hot spares
Multi-path architecture to eliminate single points-of-failure
AutoMAID™ Green Storage Technology
Nexsan's patented MAID (Massive Array of Idle Disks) technology, AutoMAID, is designed to provide real cost savings by reducing the energy requirements & thermal output of unused drives. This feature comes standard on all of Nexsan's E18 disk arrays, and provides transparent cost savings without requiring any software changes. AutoMAID allows IT to choose what combination of cost savings and performance requirements fits their business needs, with four levels of "idleness":
Level 1: at this level, disks can achieve 15% – 20% savings by unloading the head. The disks keep spinning though, providing sub-second recovery times
Level 2: achieve 35% – 45% savings by unloading the heads and slowing the disk down to 4000 RPM. At this level, recovery times average 15 seconds.
Level 3: further increase powersavings by stopping the disk spin and putting it into sleep mode, but powered on. This level provides 60% – 75% savings, and 30-45 second recovery times.
Level 4: maximize power savings by approximately 87% by powering the drive off, while still featuring 45-60 second recovery times to initial I/O requests
Data is continuously verified with Nexsan's AutoMAID technology, which performs periodic surface scans to ensure data integrity.