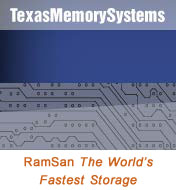 RamSan PCIe Family Highlights:
* 225GB-450GB SLC Flash storage
* 120,000 sustained IOPS
* 700 MB/s random sustained external throughput
* ECC and RAID
* Embedded CPU controller
OVERVIEW
The World's Fastest Storage® Solution in Your Server
The RamSan-10 and the RamSan-20 are both high performance Flash SSDs on a PCI card. This family of SSD products establishes the reference standard in PCI Flash architectures with industry leading sustained performance, reliability, and density. Their simplicity and affordability bring high performance storage solutions within reach of mainstream businesses and applications. The RamSan-10 and the RamSan-20 display TMS' unique ability to architect and engineer the future of solid state storage, leveraging over 30 years of SSD innovation and 10 years of PCI architectural expertise.
Both product designs leverage the power of Texas Memory Systems' Fault Tolerant Flash (FTF) architecture. Because of their comprehensive on-board management suite, the RamSan-10 and the RamSan-20 have little to no impact on host resources and data is not lost during server crashes or power loss. The RamSan-20 is the highest capacity enterprise grade PCIe SLC Flash product on the market and provides far better sustained performance and reliability characteristics than competing products. The RamSan-10 is the ideally optimized product for applications requiring extraordinarily low latencies at smaller capacity points such as those run on scientific workstations or stand alone servers.
Both cards are easily installed in a server to transfer data much faster than other Flash drives and hundreds of times faster than traditional mechanical hard disks. They allow users to simply snap in an extraordinarily fast SSD for caching, application acceleration, and ruggedness without the space, power, and management overhead associated with traditional storage expansion.
The RamSan-10 and the RamSan-20 offer a simple, economical choice for accelerating single-server applications that require large, fast buffer areas and those that are random access intensive. Databases, video editing, financial modeling, data acquisition, simulations, and Web content are a select few examples of applications that will benefit from the use of both of the cards' remarkable capabilities.