Do I need a SAN or a NAS for Vmotion – the VMware VSA Virtual Storage Array
The following two tabs change content below.
Or – How can I do shared storage at low cost for my VMware Virtualisation setup!!
SAN's and NAS boxes are often hoist upon smaller IT shops, as part of a 'virtualisation' solution.
The price of SANs continues to plummet, and in most cases, they are reliable enough, simple enough and certainly low cost enough to be an obvious choice.
But in many cases, organisations have invested in great quality Dell, IBM and HP Servers, that are full of high speed disk, with State of the Art RAID Controllers (Dell Perc, HP Smart Array, IBM ServeRAID), offering adequate cache and IOP acceleration.
These are the Servers that will run VMware ESXi – But these servers can also run a Product from VMware (VMware VSA), that will tie all of the storage locked away in each Server, into a unified shared storage array.
As we know – great functionality such as Vmotion requires shared storage.
VMware VSA runs inside each ESX Host (the Physical servers running VMware) and performs the following:
It takes the local storage on ESX Server (A) and presents it 'up' as NFS storage
It also takes the local storage and ensures its 'mirrored' across the network to another ESX Server (B)
At the same time, storage residing on ESX Server B will also present its own storage 'up' as NFS storage, and ensure it's storage is mirrored across to ESX Server A
This mirroring function takes place across NIC cards connecting Server A and B together
A form of 'Clustering' functionality is in place to ensure the NFS storage each Server presents up is visible
not only to 'itself'
but to all the other ESX Servers across the network (that are participating in the VSA cluster)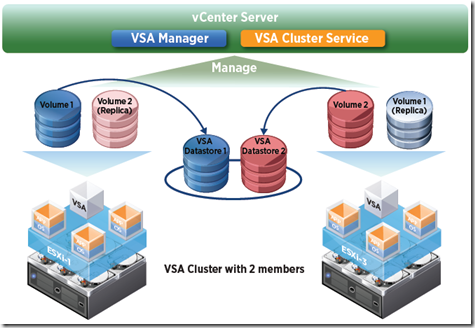 From here, its simple.
If any ESX Server were to fail, the Storage, being Synchronously mirrored to another ESX Server, 'kicks' in.
And here's the good bit – I can add 3 ESX nodes to act as 3 VSA Storage Nodes – Thus providing even greater resiliency
If I have further ESX Servers that need/require shared storage, then these Servers can access the 2-Node or 3-Node VSA cluster and take advantage of the NFS share presented – These further servers are not required to run VMware VSA though.
In all, this is very clever technology from VMware – clever in the sense of:
its all built in to VMware Vcenter – simple to manage and monitor
Its all point and click to set up
 For Most VMware Licenses, its a no charge included function
Its the easiest and lowest cost way to obtain a supported shared storage function for VMware where you want to take advantage of functions such as Vmotion
and – its just sheer simplicity and good economical sense to utilise all of the storage you have locked away in your Dell, HP and other servers – which is usually a good sight less expensive than the purchase of an outboard SAN.
(here's the VMware VSA DataSheet)