Unitrends – New Features and Function in Version 7.1– Time for Version 6 Customers to Upgrade
The following two tabs change content below.
In early January 2013, Unitrends bought 'true' WAN Replication to their core offering.
Previously: Unitrends using a WAN 'Vaulting' process for sending backups, across the WAN, to a second Unitrends appliance.
With Vaulting, the remote data was in a 'locked' down Archive format, which required
'De-Archiving' the Data into a Backup format
and then Restoring from Backup
This was great for those customers with Recovery time Objectives of 24 hours plus.
Vaulting also sent 'incremental / delta' back chunks across the WAN – It wasn't too bad on WAN bandwidth, but neither was it great.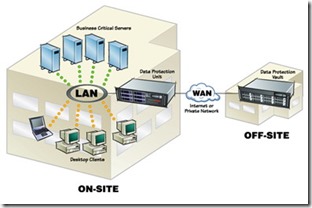 Now: Replication uses Unitrends Native Block Level DeDupe capability to compare DeDupe 'Hash Sums' across the WAN.
Thus preventing any unnecessary data from clogging your precious WAN Bandwidth
Not only that: The Remote Data is stored in a Backup Ready format – In fact the exact same format your primary site data is stored in.
This means recovery can start immediately.
Better still – If its VMware VM's you are replicating, you remote site can Instantly Restart and Rebuild those VM's, meaning remote site Disaster Recovery in a matter of minutes.
Unitrends 7.1
What's with Unitrends 7.1 then.
Well – the January 2013 release of Unitrends 7.0 bought Cross WAN DeDuped replication to the table.
It worked as expected – yet managing and monitoring individual VM's for backup/replication and DR purposes was a touch painful
7.1 brings us
Individual Virtual Machine Views
The ability to easily see how individual VM's are replicating
and a Simple ability to remote DR individual VM's
The WAN Replication process has also been improved
With better WAN Bandwidth utilisation
A bunch of other improvements have been made in the areas of
LAN free (that is: Direct to SAN) backup via iSCSI and FC
4TB Drives now supported for removable media Archiving
Our favourite feature: Individual Virtual Machine view in the main navigation console
Summary:
Unitrends has become an even strong contender in the SMB Mixed Physical/Virtual backup environment
Its ideally positioned for backups in the 2-20TB region (or larger), especially for those environments where you are at your wits end with backup exec.
To find out more – get in touch for a demo or a deeper discussion about your backup needs and whether Unitrends V 7.1 is the technology enabler for you.